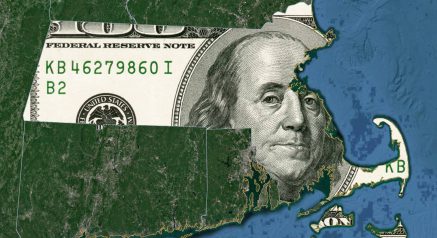 There has never been a better time to take advantage of state and federal rebates and financial incentives for geothermal heating and cooling systems in Massachusetts.  From small homes to large institutional and commercial buildings and district energy systems, generous incentives are available from multiple sources to significantly reduce system installation costs.
Example Financial Incentive Scenarios
Underground Energy has developed tools to estimate the value of these geothermal incentives, with three examples provided in the table below.  These estimates are examples only; your site-specific situation and the status of the program at that time will determine the amount of money you can collect to offset the capital cost of your geothermal system.  Contact Underground Energy to assess your incentivized opportunity for sustainable heating and cooling.
Geothermal
Incentive Program
Residence
(3,000 ft2 )
Non-Profit
Institutional Building
(80-ton GSHP system)
Commercial
Net-Zero Mixed Use
(200-ton GSHP system)
Federal Tax Credit *
$10,500
–
$117,000
MassCEC
$10,000
$220,000
$250,000
MA APS program**
$13,000
$24,000 /yr
$86,000 /yr
Total Initial Incentive
$33,500
$220,000
$367,000
Annual APS Revenue
–
$24,000 /yr
$86,000 /yr

*  Based on 30% residential, 10% commercial tax credit applied to estimated system cost. 


MassCEC grant and APS revenue may be subject to income tax in the year they are received.


** Based on $20/AEC
Renewed Federal Tax Credit for Geothermal Systems
The 30% federal tax credit for residential geothermal systems has been renewed with the enactment of a Continuing Resolution spending bill on 9 February 2018.  The bill reinstates geothermal tax credits retroactive to 1 January 2017 and extends them to 1 January 2022. Commercial projects remain eligible for a 10% federal tax credit, accelerated depreciation, and benefit from changes that make them eligible if begun by 1 January 2022, rather than placed in service by that date.  The federal credits would be applicable to the balance of eligible system installation cost after state grants.
Massachusetts Clean Energy Center Ground-Source Heat Pump Grants
The Massachusetts Clean Energy Center (MassCEC) offers attractive rebates on new and retrofit ground-source heat pump (GSHP) systems for qualifying residential, commercial and institutional building owners, with extra incentives for efficiency, public/non-profits, affordable housing and income of the applicant.  Eligible projects must be located in a utility territory that contributes to the Massachusetts Renewable Energy Trust, including the service territories of National Grid, Eversource, Unitil, and some municipal light plants.  Although GSHPs provide both winter heating and summer cooling, rebates are based only on the heating mode.  Rebate levels for new GSHP systems are calculated per Heating Ton (12,000 Btu/hr).
MassCEC Grant Component
Rebate Values Per Heating Ton
Commercial-Scale Program
Residential and Small Scale Program
Base Rebate

$2,000

$2,000

Efficiency Adder (per 1.0 COP above min.)

$1,000

–

Public and Non-Profit Adder

$750

$750

Affordable Housing Adder

$1,000

$1,000

Income-Based Adder

–

$1,000 – $1,500

Rebate Caps

$250,000 or 50% of eligible costs
$150,000 on retrofit of existing GSHPs

$10,000 base rebate cap
$20,000 multifamily/nonresidential cap
Rebates for residential GSHP systems are limited to the first five (5) tons of heating capacity per housing unit, to a maximum base rebate of $10,000, with potential adders.  The full house heating load must be met by the GSHP system.  Non-Residential entities can receive funding for up to ten (10) tons of heating capacity through the small scale program; larger multifamily buildings may apply under the Commercial-Scale GSHP Program.  Multifamily and non-residential Projects applying under the MassCEC residential and small scale program are limited to $20,000 plus any Public/Non-Profit or Affordable Housing Adder.  Additional details are provided in the MassCEC's Residential and Small-Scale Ground-Source Heat Pump Program Manual, Updated: May 4, 2018.
Eligible commercial-scale GSHP systems can receive up to $250,000 in MassCEC rebates, using a base rebate per heating ton and adders for public and non profits, affordable housing, and system efficiency.  Eligible commercial-scale GSHP systems must be designed with a full-load cooling capacity between 90% and 120% of peak cooling load.  Systems sized for heating may exceed the 120% limit.  If designed as a standalone heating source, GSHP systems must be designed with a full-load heating Capacity between 90% and 120% of peak heating load for the space conditioned. GSHPs installed with additional back-up heating that are not electric resistance heating may size systems below 90% of peak heating load. Systems sized for cooling may exceed the 120% limit.  Additional details are provided in the MassCEC's Commercial-Scale Ground-Source Heat Pump Program Manual, Updated: January 3, 2018.
Massachusetts Alternative Portfolio Standard (APS)
Renewable thermal technologies (including Earth-coupled heating) in Massachusetts are now afforded a level of parity with renewable power generation after The Massachusetts Department of Energy Resources (DOER) filed the final version of its Alternative Energy Portfolio Standard (APS) regulation (325 CMR 16.00) in December 2017.  The APS regulation is accompanied by DOER-issued guidelines on metering and calculation of the useful thermal output of eligible Renewable Thermal Generation Units (RTGUs), net of any fossil fuel or electrical energy input.
Several classes of RTGUs are defined by the APS regulation, including GSHPs, which are further classified by size: small, intermediate and large.  Small GSHP systems (that can heat up to about 6,000 ft2 of conditioned space) must supply 100% of their building's total annual heat load, while supplemental heating can be used in conjunction with larger GSHP systems.
Renewable cooling is not considered by the APS, only the Useful Thermal Energy used for heating is calculated.  For GSHP systems, the amount of energy extracted from the ground heat exchanger is calculated quarterly to determine the net thermal energy output equivalent, in megawatt hours (MWh).  A multiplier is then applied to calculate the number of MWh for which the NEPOOL Generation Information System (GIS) will create Alternative Energy Certificates (AECs) for the GSHP system.  GSHP systems currently enjoy the largest possible multiplier (5) afforded any RTGU class.  An additional multiplier of 2 is available for GSHP systems in highly efficient buildings that meet Zero Energy or similar certifications.
A GSHP system owner will usually sell their thermal generation attributes (the number of MWh of useful thermal energy delivered) to an aggregator, who will manage the qualification process through DOER, establish a NEPOOL GIS account and asset ID on behalf of the RTGU, and market and sale AECs earned by multiple RTGUs.  The 2018 Alternative Compliance Payment rate is $22.64 per MWh; this rate is paid by retail electricity generators to meet their APS regulatory requirement, and effectively caps the value of the AEC market.  Expect aggregators to take a fee in the 5-8% range and carefully review their terms.  Attributes are minted quarterly for intermediate and large systems, but small GSHP systems can pre-mint 10 years worth of attributes and collect a one-time payment for their system under the current APS regulations.